Rhode Island Lighthouse Cruise Tours
Learn the history of Narragansett Bay and it's lighthouses. Discover the beauty of RI's shoreline. With 20 Rhode Island lighthouses to choose from, you are sure to find something for everyone. Enjoy a late afternoon cruise to Block Island or the protected waters of Narragansett Bay. Dating back to the mid 1700's, the history of each lighthouse will be covered. The cruise between each lighthouse will include commentary on famous landmarks such as Fort Adams and the former Quonset Naval Air Station. Also, the role each played in RI's marine history, as well as any other important sites that have historical significance will be mentioned. A quick loop around Newport harbor allows viewing of world class 12-meter yachts, private ocean yachts and Newport's commercial fleet. Lunch or dinner at a fine dockside restaurant in Newport or Block Island can be arranged. We will pass by two of the state's largest bridges, one having a span of almost two miles. During the fall, observe the coastline's spectacular foliage. Finish a perfect day by watching the sunset behind the horizon of Pt. Judith Lighthouse or Block Island.
Lighthouse tours begin in May and run through the end of September. Departure times vary from 8AM, 1PM and 4PM on Mondays, Wednesday and Sundays for individuals and small groups. Private groups can choose any date or time. Reservations are required
Block Island South East Light
4 hr. Block Island Tour
This excursion will visit four lighthouses that include the North Light, Southeast Light, Watch Hill and Pt Judith. The cruise will circle the island, allowing a view from each side. A history of each lighthouse, the island life styles, marine disasters, marine life, ocean currents, weather, ocean inlets, and coastline landmarks will be discussed. Lunch or dinner on the island can be arranged. You should allow yourself an additional 1½ hr. for this.
Block Island North Light
4 hr. Narragansett Bay Tour
This tour offers a choice of ten lighthouses. The selection includes Pt. Judith, Beavertail, Castle Hill, Lime Rock, Newport Harbor, Rose Island, Prudence Island, Hog Island, Bristol Ferry, Conanicut Point, Poplar Point, Plum Beach, and Dutch Island Lighthouses. The route of this trip includes cruising under the Newport, Mount Hope, and Jamestown-Verrazzano bridges. Lunch or dinner can be arranged in Newport Harbor. Please allow an additional 2 hr. for dining. A dockage fee may be added if applicable.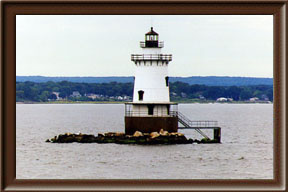 Conimicut Light
6 hr. Narragansett Bay Tour
This expedition ventures further into Narragansett Bay and Sakonnet. A total of fifteen lighthouses are available from a selection of eighteen. The additional lighthouses include Sakonnet, Nayatt Point, Pomham Rocks, Conimicut, and Warwick. Due to time restraints, we are limited to fourteen lighthouses when we visit Sakonnet Light. To view the Pomham Rocks lighthouse in East Providence, an additional hour is required at a rate of $125 / hr.
The Group Organizer is Free of Charge as the 13th Person.
Lighthouse Tours Rates Based On 12 Passengers

4 Hr. Private Tours
$900
6 Hr. Private Tours

$1200

Additional Hourly Rate
$125
Additional Passengers
Add: $60 / Person
Single, Couples, and Mixed Groups
$65/person 4hr $95/person 6hr
Capacity up to 16 Passengers
The Captain and Mate will share a customary 20% Gratuity
Dates for mixed group Lighthouse tours June 3, 23 July 5, 22 August 11, 23 Sept. 2
Photos by Jeremy D'Entremont, www.lighthouse.cc
---
Snappa Charters
Captain Charlie Donilon

Boat Location Address: 33 State Street Narragansett, RI 02882
Mailing Address: 2 Congdon Dr Wakefield, RI 02879

Boat/Cell (401) 487-9044
E-mail:snappacharters@cox.net

© 2008 All rights reserved Snappa Charters